Windows Binaries/EXEs
You can download the Windows software from the ZIP file below. These are portable applications and contain no installer. NOTE: By downloading this file you accept the terms of the GNU General Public Licence V3.
Take a look at What's New/Fixed in this version and to download older versions.
For help, and discussion, Join the Discord Channel.
Have you considered donating some beer money to say thanks?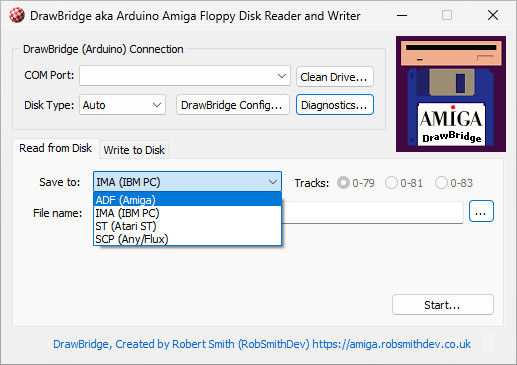 Source Code
This project is available under the
GNU General Public Licence V3
. All the source code is available on
GitHub
at
https://github.com/RobSmithDev/ArduinoFloppyDiskReader
.
This repository includes:
A Visual Studio 2019 Windows Console Application
A Visual Studio 2019 Windows GUI Application
A make file to build the console application under Linux
A set of libraries used to read and process the data into ADF files
A set of libraries used to read an ADF file and write it back to a disk
A diagnostics module to help you check your wiring!
The sketch source code for the Arduino
Other Versions and Ports