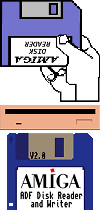 As featured in the New UK Amiga Magazine Amiga Addict
What's New? V2.4 now works with more USB to Serial devices and has some other small improvements too
My Aim: To create a simple, cheap and open source way to recover and rewrite data from and to Amiga DD floppy disk from within Windows 10.
My Solution: An Arduino sketch + a Windows application (which can be ported to other O/S) that actually works!
Why: To preserve data from these disks for the future. Also, a normal PC can't read/write Amiga disks due to the way they are written.
Tip
: Having problems?
Don't use the CH340 adapter boards or the Arduino Uno onboard USB->Serial
. They can't keep up with the baudrate we're using!
What would you like to know?
Ad: Like point and click adventures? Why not try a digital online escape room? where proceeds from your purchase go to charity! - Yes I had a hand in these too, inspired by Amiga games