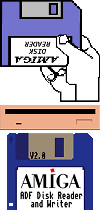 Source Code
This project is available under the
GNU General Public Licence V3
. All the source code is available on
GitHub
at
https://github.com/RobSmithDev/ArduinoFloppyDiskReader
.
This respository includes:
A Visual Studio 2017 Windows Console Application
A Visual Studio 2017 Windows GUI Application
A set of libraries used to read and process the data into ADF files
The sketch source code for the Arduino
Windows Binaries
Obviously you will need to program your Arduino yourself. Luckly there are
many examples
showing how to do this on YouTube.
You can download the Windows software from the ZIP file below. These are portable applications and contain no installer. NOTE: By downloading this file you accept the terms of the GNU General Public Licence V3.
Download ADFWriter.zip (1.95MB)